Together Then Together Again
Dedicated to the Troopers of Air Cavalry Troop
11th Armored Cavalry Regiment
Please be patient while page loads
Used by permission of Paul Hardcastle
Checkout his website and his music http://www.paulhardcastle.com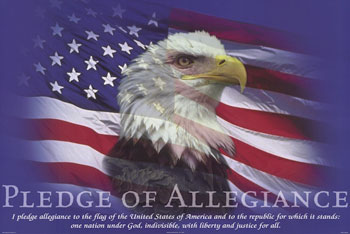 A young man who does not have what it takes to perform military service is not likely to have what it takes to make a living."
-John F. Kennedy (JFK)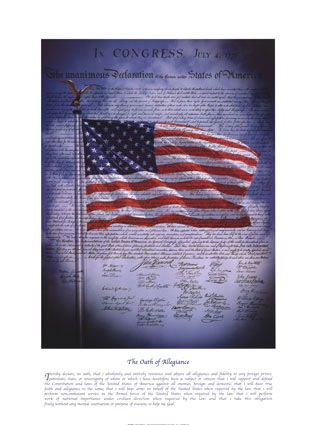 Ask not what your country can do for you; ask what you can do for your country."
-John F. Kennedy (JFK)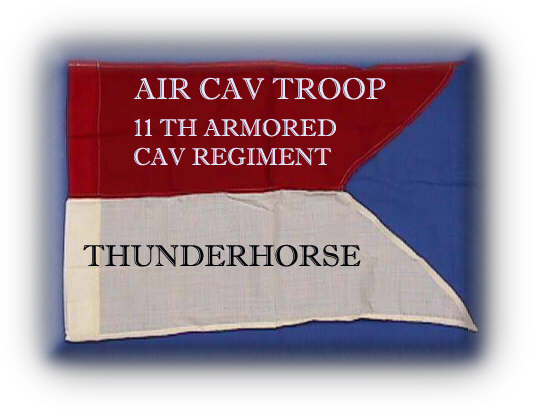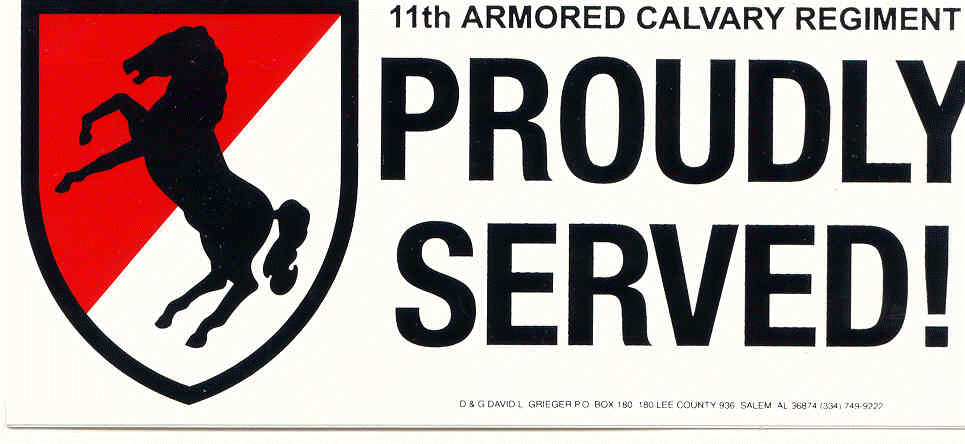 Hi my name is John R Griffith. My rank was a SP/5 E5 .
I was a crew chief on a UH1C (Huey) gunship #66-522 from the 2nd gunship platoon (Avengers) of Air Cav Troop from 1967-1968.Call sign at this time was Thunderhorse for the Huey's. The armament system on 522 was a flex gun system consisting of 4 M60's pylon mounted 2 M60 door guns and 14 rockets. The Cavs base camp then was located at Xuan Loc. My First gunner was Paul Favillia then later it was Paul Wilson. Pilots were not assigned to a ship they rotated to different ships in the platoon. Frequent pilots I had where WO's Burns ,Clancy and Eggerth. Lt.'s Schwent and Reese( THUNDERCHICKEN)
.Reese's favorite color was YELLOW! One of my best friends was Garland Gene Haley who was killed in action. Another good friend was Rodney T (Pineapple) Yano who was awarded the Medal of Honor Posthumously. I'll always be proud of the 11th Cav. Memories seem to fade and change with time. That's why I didn't list a history of the unit. Some places say that Air Cav when it was deployed to Nam was equipped with UH1H's.This model wasn't even produced yet. Gunships were UH1B's modified with a 540 rotor system to make the UH1C model. Our troop carrier ships (slicks) were UH1D's.We were divided into four platoons. 1st gunship platoon was the Midnight Raiders 2nd gunship platoon was the Avengers (this was my platoon) 3rd gunship platoon was Thunder studs and the lift platoon was Road Runners Near the end of 68 the Cav started to replace the Charlie model with the Cobra and armed LOH's. This is the reason I changed my mind at the last minute and did not extend my tour. Also a Thunderun to Air Cav meant a light (2 ships) or heavy(3 ships) fire team was "rolling hot" on a position. I would like to thank the ground troops for saving us every time we were shot down. If it were not for your bravery and skills we would not be here today. Now way past my prime this old trooper try's to remember the good times of my stay and not dwell on the rough times. I'm still fighting the ghosts from '67-'68 but with the help of my Lord ,My family My unit , fellow vets, the VA drugs and therapy I am finally winning my 35 year private war.
I encourage any of you fighting the past to seek allies to win your personal war. REMEMBER WE DIDN'T LOSE THE WAR OVER THERE ,SO PLEASE DON'T LET THEM WIN NOW!
These Special Links Might Help You
Disabled American Veterans Facts About PTSD Military Veterans PTSD Reference Manual
National Center For PTSD Paralyzed Veterans Of America The American Legion
The National Veterans Organization, Inc. Veterans Administration
Archival Research International's ( Records for VA claims) Veterans Of Foreign Wars
Agent Orange Victims and Families In Touch
Please see my link page for other topic links click here
I am a diabetic for years. It is starting to progress. Even though I knew I had it I didn't follow what they told me to do. As a result I am now on insulin and pills This disease is crippling and killing Nam Veterans at a alarming rate .Part of the Agent Orange Package we received when we were there. Please get your doctor to check you for this killer that lurks in many of us all these years.
Want to contact officials on any subject use form below. Let them know what YOU think.

This is still my feelings!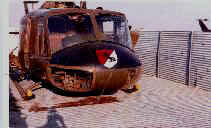 front view 66-522
Side view of 66522 (UH1C)
UH1C with 40 mm
e-mail me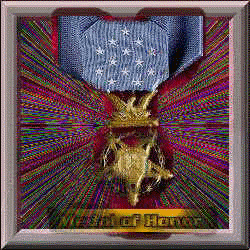 MEDAL of HONOR WINNER RODNEY T YANO (Pineapple) KIA 1Jan69
MEDAL OF HONOR RECIPIENT

NAME: Rodney J.T. Yano RANK: Sergeant First Class ORGANIZATION: U.S. Air Cavalry Troop, 11th Armored Cavalry Regiment PLACE: Republic of Vietnam DATE: 1 January 1969 ENTERED SERVICE AT: Honolulu, Hawaii BORN: 13 December 1943, Kealakekua Kona, Hawaii

CITATION

SFC Yano distinguished himself while serving with the Air Cavalry Troop. SFC Yano was performing the duties of crew chief aboard the troop's command-and-control helicopter during action against enemy forces entrenched in dense jungle. From and exposed position in the face of intense small arms and antiaircraft fire he delivered suppressive fire upon the enemy forces and marked their positions with smoke and white phosphorus grenades, thus enabling his troop commander to direct accurate and effective artillery fire against the hostile emplacements. A grenade, exploding prematurely, covered him with burning phosphorus, and left him severely wounded. Flaming fragments within the helicopter caused supplies and ammunition to detonate. Dense white smoke filled the aircraft, obscuring the pilot's vision and causing him to lose control. Although having the use of only one arm and being partially blinded by the initial explosion, SFC Yano completely disregarded his welfare and began hurling blazing ammunition from the helicopter. In doing so he inflicted additional wounds on himself, yet he persisted until the danger was past. SFC Yano's indomitable courage and profound concern for his comrades averted the loss of life and additional injury to the rest of the crew. By his conspicuous gallantry at the cost of his life, in the highest traditions of the military service, SFC Yano has reflected great credit on himself, his unit and the U.S. Army.
THESE ARE VERY IMPORTANT IF YOU CAN HELP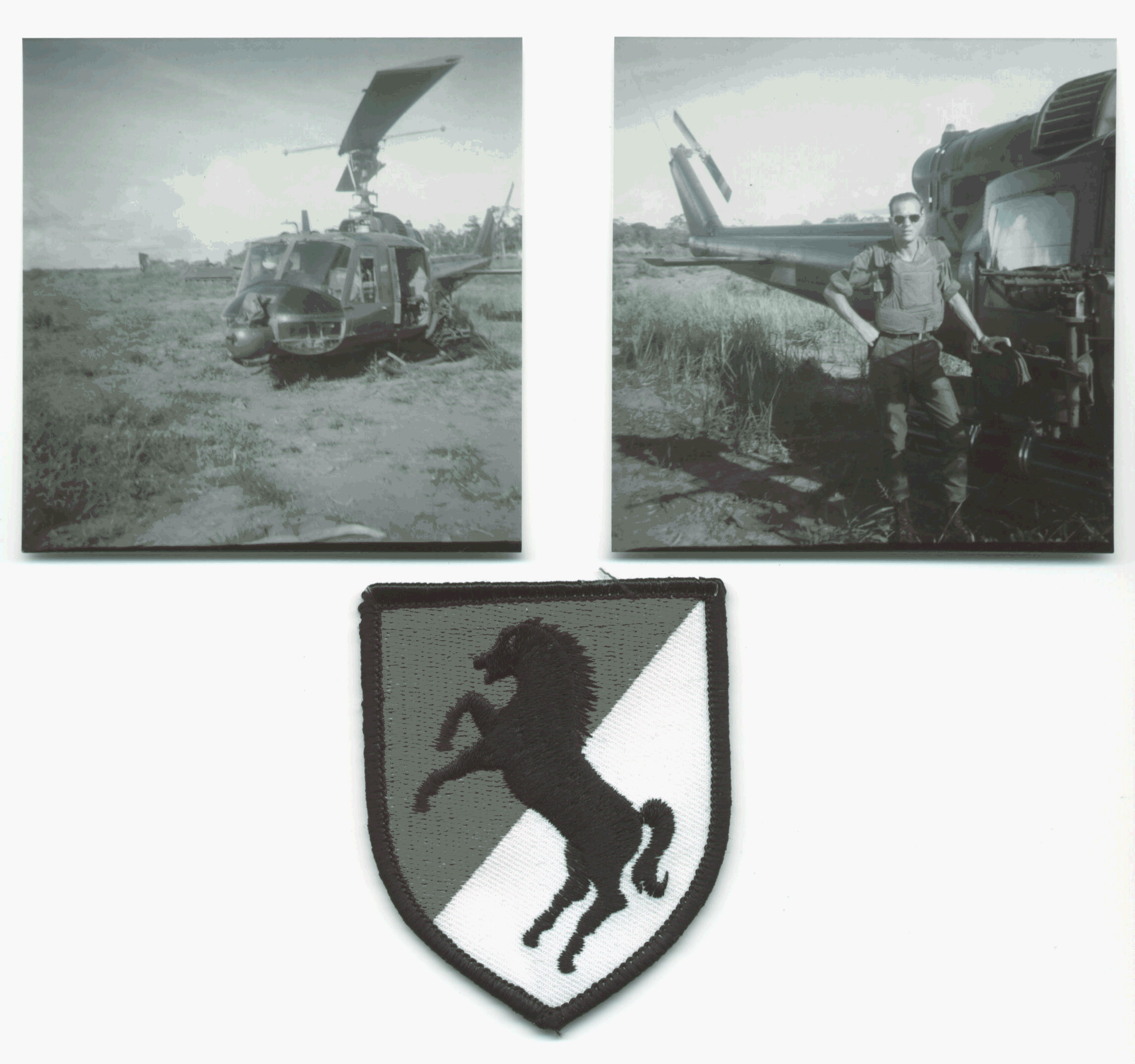 LOOKING FOR BOBBY JOHNSON WAS GUNNER FOR CHUCK ROLLINS ON 528 JAN 1968 -DEC 1968 PLEASE E MAIL CHUCK AT: CRoll16687@aol.com
*****************************************************************************************************************************
MESSAGE BOARD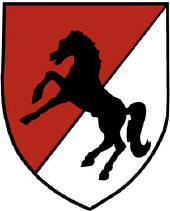 Sorry Gene I should have taken your flight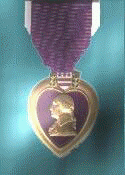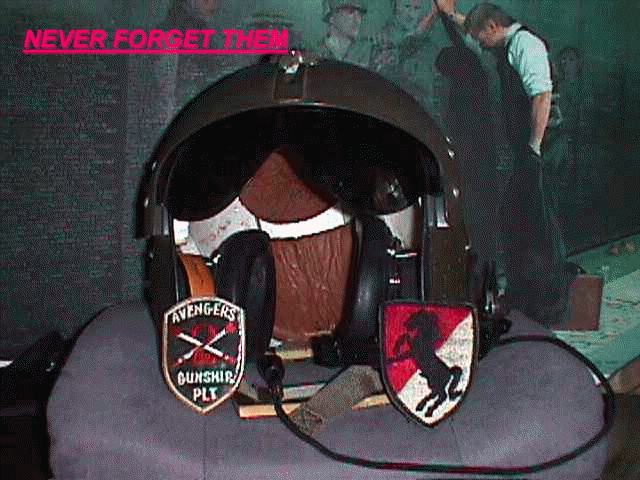 The helmet and patches were given to me by the greatest Huey pilot WO Dennis Clancy




If you ever "rode" with the 11th Cav there are a number of organizations you can belong to whether it was past or present .Check them out on my links page. TO copy an image on this page right click then select save target as select what file on your computer you want it to go then download
ALL MY PICTURES AND GRAPHICS YOU MAY COPY FOR FREE If you remember you can link to my page or use my name
IF you want your link on this page please email me. If you want to link to this page copy this


View My Guestbook
Sign My Guestbook


SiteRing by Bravenet.com


Powered by RingSurf!




Powered by RingSurf!